backyard crowing
-----------------------------------------------------------------------------------------
countee cullen
according to my lit book, here is countee cullen's bio:
Countee Cullen
1903-1946
"He was born Countee Porter and raised in Baltimore and in NYC. When he was fifteen he was adopted by the Reverend Frederick Cullen, a Methodist minister in Harlem, who took his foster son on a tour of the Holy Land and to the literary shrines of Europe and strongly encouraged his academic interests. Cullen went to NYU, where he was elected to Phi Beta Kappa and won awards for his poetry. In 1925, 'Color', his first book of poems, was published. By the time he was 26, he had published three more volumes: 'Copper Sun' (1927) 'The Ballad of the Brown Girl' (1927), and 'The Black Christ' (1929). He wrote a Harlem novel, 'One Way to Heaven' (1932), translated Euripides's 'Medea' (1935), and served as an editor for two important Negro magazines of the day: 'Opportunity, Journal of Negro Life', and 'The Crisis', an official periodical of the NAACP. But after his early, prolific years, Cullen's productivity declined, and he supported himself mainly by teaching French in the NY public schools, although he continued to write verse and in 1946 collaborated in writing a Broadway musical, 'St. Louis Woman.' In 1947 his collected poems were published posthumously under the title 'On These I Stand.'
Cullen, a conscientious, dedicated craftsman, was one of the most notable writers of the Harlem Renaissance, a period of remarkable literary achievement by black writers in NYC during the 1920s. Cullen's techniques were conventional; his models were the romantic poets, not black poets, and he often insisted that his poems in particular and poetry in general should be free from political or racial matters. At other times he could not escape the fact of his race. His finest poem, 'Heritage', is an assertion of the black American's relationship with Africa, and he came to acknowledge that 'in spite of myself, I find that I am actuated by a strong sense of race consciousness. This grows upon me.' Cullen was caught between his conflicting allegiances to hiis art, his country, and his race, but, like other black writers after him, he managed to create a body of memorable writing out of disparate loyalties and ideologies and out of his struggles in a world that made 'a poet black, and bid him sing.'"
this is the very image our professor showed of countee in class: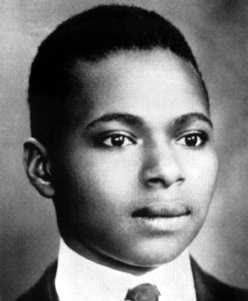 - 2005-12-02
0 comments
-----------------------------------------------------------------------------------------